A quick reminder that this Saturday is a bumper one for crime fans, with the start of not just one but two cracking crime series on the BBC.
On BBC Four from 21.00 to 23.00, we have the first two episodes of The Bridge 2, the Danish-Swedish co-production that attracted considerable praise in the UK when the first series aired in 2012. You'll find further details about Bron/Broen 2 over at The Radio Times website – and here's a bit of what they have to say about it:
>> In a thrilling opening sequence, a cargo vessel wanders from a shipping lane to head directly for the gigantic Øresund Bridge linking Denmark and Sweden. Despite frantic radio pleas from the coastguard, there is no word from the ship as it crashes into the structure that spans a mass of chilly, lonely water. Yes, The Bridge is back. After nearly two years in "real time" and precisely 13 months in fictional time, the cult Scandi thriller's brilliant cop partnership of Saga Noren and Martin Rohde returns. <<
An amusing clip of Saga and Martin's reunion is available on the BBC4 website here – isn't it great to see them together again?
And lest you've forgotten, here's the wonderful title sequence, featuring the song 'Hollow Talk', by The Choir of Young Believers. Marvellous stuff.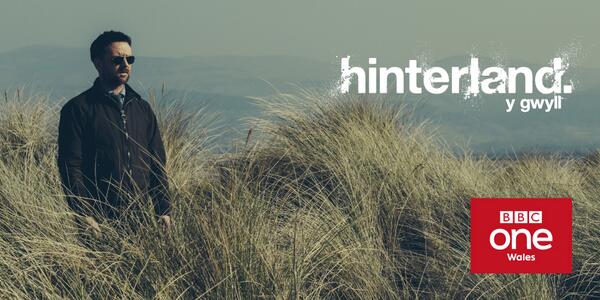 Meanwhile, over on BBC One Wales from 21.30 to 23.05, we see the start of the gripping Welsh crime drama Hinterland, which aired a little while back in a Welsh-language version and will now be shown again in a bilingual version. I am SO pleased that both English and Welsh feature (the latter with subtitles), as this accurately reflects life in Wales, where you hear speakers hopping from one language to the other all the time.
This is what the BBC has to say on the decision to film in both languages (full press release available here):
>> The special adaptation of the drama for BBC One Wales will feature dialogue in both English and Welsh – the first time both languages have played a prominent role in a drama series broadcast by the BBC. The Welsh-language elements of the programme will have on-screen subtitles.
Starring Richard Harrington, Hinterland has already attracted critical acclaim for its brooding portrayal of police life in west Wales. The Guardian said "fans of washed-out noir are going to love this for its slow, confident pacing, attention to detail and Harrington's engrossing performance."
The new series follows a commitment made by BBC Cymru Wales Director, Rhodri Talfan Davies, at the Celtic Media Festival in April to better reflect Welsh language life and culture on BBC One Wales. At the time, he said: "I think we have to spend more time finding bridges that can connect different audiences to cultures, view-points and experiences they might not normally encounter. On BBC One Wales I want us to think creatively about how we allow Welsh language voices and experiences to be heard and experienced a little more." <<
For my take on the Scandi-influenced, Welsh-language original Y Gwyll, including a spoiler-free review of the first episode, see here. Further details are available in The Radio Times.
The eagle-eyed among you will have spotted that these two programmes clash… Set those recorders now – neither should be missed!